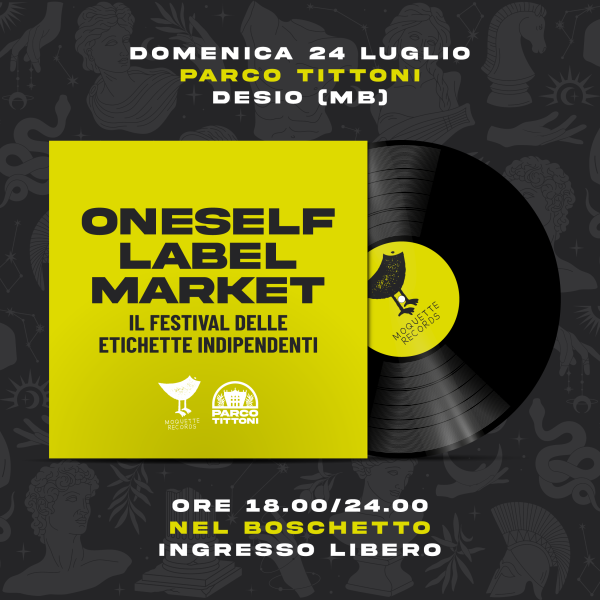 Domenica 24 Luglio
dalle 18:00 alle 24:00 nel boschetto
INGRESSO LIBERO

Apertura ore 17:00
Parco Tittoni DESIO, Via Lampugnani 62
✦ ✦ ✦ ✦ ✦ ✦ ✦
Moquette Records presenta:
ONESELF LABEL MARKET
Mercato per aficionados delle produzioni dal basso, momento per fare rete e nuove scoperte, occasione per trovare nuove uscite, rarità e molte altre perle, direttamente dal creatore al consumatore!
Porta la tua musica e confrontati direttamente con le etichette discografiche presenti:
✦ Moquette Records
✦ Accannone Records
✦ Pulp Dischi
✦ Gasterecords
✦ Dynamic and Economic Sound Records
✦ Edac Music Group
ESIBIZIONI DAL VIVO nel boschetto dalle 18:00 alle 21:00
Giulio Fagiolini ✦ Pulp Dischi
L.E.D. ✦ Accannone Records
Tum ✦ Moquette Records
Samu ✦ Dynamic and Economic Sound Records
Carlo Pinchetti ✦ Gasterecords
The Snookers ✦ Edac Music Group
OSPITI
Andrea Spinelli ✦ Live painter, Illustratore & Animation Designer
Valeria Sgarella ✦ Giornalista e Scrittrice
✦ ✦ ✦ ✦ ✦ ✦ ✦
Bar e cucina sempre operativi!
dalle 21:00, in area Live, concerto: GIUDA + The Nuv (ingresso 10€)