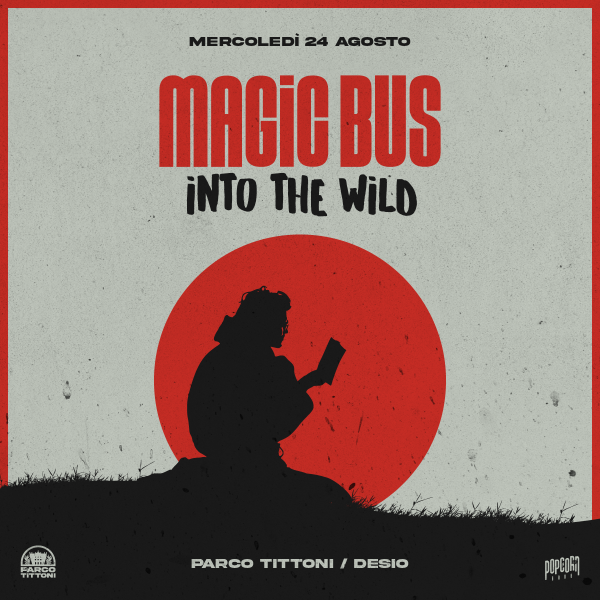 Mercoledì 24 Agosto
"La felicità è reale solo quando condivisa"
Prevendita 10€ +ddp
In cassa 10€

19:30 – Apertura location e cassa
21:00 – Inizio spettacolo

Food & Drinks everywhere!
Parco Tittoni DESIO, Via Lampugnani 62
✦ ✦ ✦ ✦ ✦ ✦ ✦
Magic Bus / Into the Wild non è solo un concerto tributo, ma un vero e proprio spettacolo itinerante liberamente ispirato all'eredità di "Into the Wild" e alla produzione solista di Eddie Vedder, che ne ha curato l'indimenticabile colonna sonora.
Lo show segue un climax inizialmente intimista con brani ukulele e voce e termina con esecuzioni corali elettriche: una scaletta che prevede l'esecuzione integrale di "Into The Wild" insieme a canzoni inattese dei Pearl Jam e altri brani che meglio hanno indagato il rapporto tra la musica, il cinema e il viaggio.
Ad arricchire lo show anche animazioni video, effetti sonori, spezzoni video tratti dall'iconico film e brevi reading tratti dall'omonimo libro.
Davide Genco – Voce, chitarra, mandolino, ukulele
Marco Settanni – Chitarre
Marco Chiodi – Basso
Enrico Pirola – Batteria
Chris Bona – Visual
Produzione – Popcorn Gang
✦ ✦ ✦ ✦ ✦ ✦ ✦
Ingresso previo acquisto del biglietto, online o direttamente in cassa.
Per bar e griglieria l'ingresso è sempre gratuito e senza prenotazione!