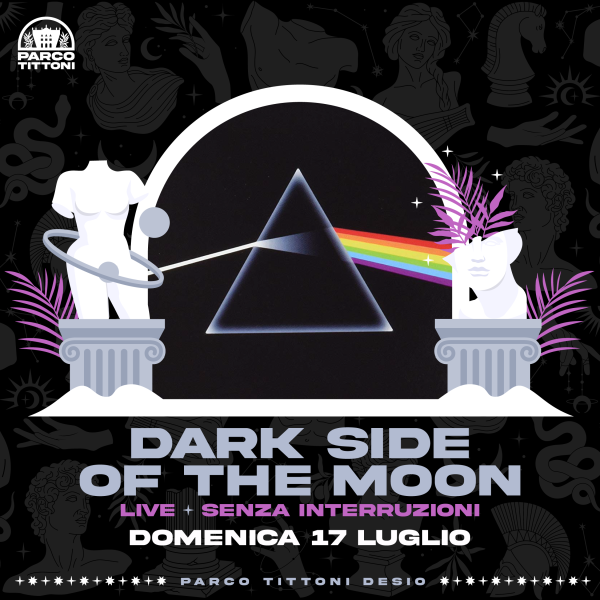 Domenica 17 Luglio

Apertura location ore 18:00
Inizio live ore 21:00
Prevendita 10€ + ddp
Biglietto in cassa 10€
Food & Drinks everywhere!
Parco Tittoni DESIO, Via Lampugnani 62
✦ ✦ ✦ ✦ ✦ ✦ ✦
"The Dark Side of the Moon" dei Pink Floyd è uno dei dischi più famosi della storia della musica, osannato dalla critica, adorato dai fan e celebrato dalle classifiche di vendita con 50 milioni di copie vendute in tutto il mondo. L'album è uscito nel 1973 ed in occasione del 48 esimo anniversario della sua pubblicazione viene riproposto interamente dal vivo a Parco Tittoni in un concerto magico, senza interruzioni, a cura di una super band composta da alcuni nomi della scena musicale italiana:
Alessandro Grazian ✦ voce, chitarra
Denis Alessio ✦ voce, chitarra, lap steel
Martina Milzoni ✦ voce, basso
Luca Dalz ✦ tastiere
Emanuele Alosi ✦ batteria
Francesco Fiore ✦ sax
Alessandra Bordiga ✦ voce
✦ ✦ ✦ ✦ ✦ ✦ ✦
Ingresso previo acquisto del biglietto, online o direttamente in cassa.
Per bar e griglieria l'ingresso è sempre gratuito e senza prenotazione!